Click on the individual Days of the Week, in the 'Menu' above.
… or scroll down for future events…
Happening in Darwin:
Markets:
Saturdays: Parap Markets: 08h00 – 16h00
Sundays: Nightcliff Markets: 08h00 to 14h00
Saturdays & Sundays: Rapid Creek Markets: 07h00 – 14h00
*********************************
22 January: MudRacing Round 4 : Hidden Valley
26 January: Australia Day Ute Run, Hidden Valley
19 February: MudRacing Round 5 : Hidden Valley
Future Events:
5-8 May 2022: NT PGA golf:
Founded 2016.'The Championship of Australia's Top End' – the Northern Territory PGA Championship in Darwin, NT is part of the PGA Tour of Australasia
The Tailor-made NT PGA Championship will be played from 5th – 8th May, 2022 at Palmerston Golf Course and forms part of the 2021/22 ISPS HANDA PGA Tour of Australasia season.
17-19 June 2022: Darwin Supercars!
New to The Merlin Darwin Triple Crown 2022 is S5000! These cars are the fastest in Australian circuit racing, with the number '5000' in reference to the thunderous 5-litre (5200cc) V8 engines, which produce 560bhp and speeds of up to 300kph. They are the modern successor to the legendary Formula 5000 category, and seriously put on a show! Our Black Friday sale ends tonight at midnight. Snap up your 3-day Hot Pass for just $89 and save 30 bucks!Book here: www.darwinsupercars.com.au
The ASBK – Australian Superbikes are back for the The Merlin Darwin Triple Crown 2022 and we can't wait to see them take to the track again!One of the fastest events around, the ASBK Championship is all about the speed with riders approaching 300kph. Last year 17-year-old Oli Bayliss won in his first year racing a Superbike. Do you think he can do it again?
We are stoked to be bringing you TWO nights of Nitro Up North action at the Merlin Darwin Triple Crown next year, including the mind-blowing finals of the Top Fuel Australia Championship! The Top Fuel dragsters are the quickest accelerating racing cars in the world and the fastest sanctioned category of drag racing, with competitors reaching speeds of 539 km per hour and finishing the 305m runs in 3.62 seconds. Pwooooah!The Top Australian Doorslammers and local Sportsman Bracket will also feature, with plenty of burnouts and wild runs to keep the adrenaline-pumping action at an all time high.Don't forget: Our Black Friday sale is on NOW! Get your 3-day Hot Pass for just $89 including Nitro Up North entry for both nights.
19-20 + 26-27 August: Chariots of Thunder 2022:
Chariots of Thunder Sprintcar series is an event planned over 4 nights raced in August at Northline Speedway with the best drivers from around Australia
Now till 31 March 2022: Bargain!: Ramada Suites Hotel: https://www.facebook.com/ZenQuarter/
We are offering $100 off per night on our Two Bedroom Apartments for stays 7 nights or longer from now until 31 March 2022 for those that love to storm watch or enjoy full harbour views. Discounts automatically apply on stays of 7 nights or more – with even greater specials for 14 nights or more. (excluding Christmas/NY period) Click here to check rates. https://bookings8.rmscloud.com/Search/Index/10052/1/
Zen Rooftop Bar, Darwin.
51uut2734co0hhordh  · 
Here it is the 2022 TEDK Season Calendar!!
Mark them on your calendar as busy getting dirty, we can't wait to see you all back at the track in 2022!!
NT Covid Rules and Regulations,
and updates:
https://coronavirus.nt.gov.au/
Gallery:
Cullen Bay, Darwin
Darwin CBD
2018 Duck Pond

Mindil Beach Casino

The Jetty Restaurant, Darwin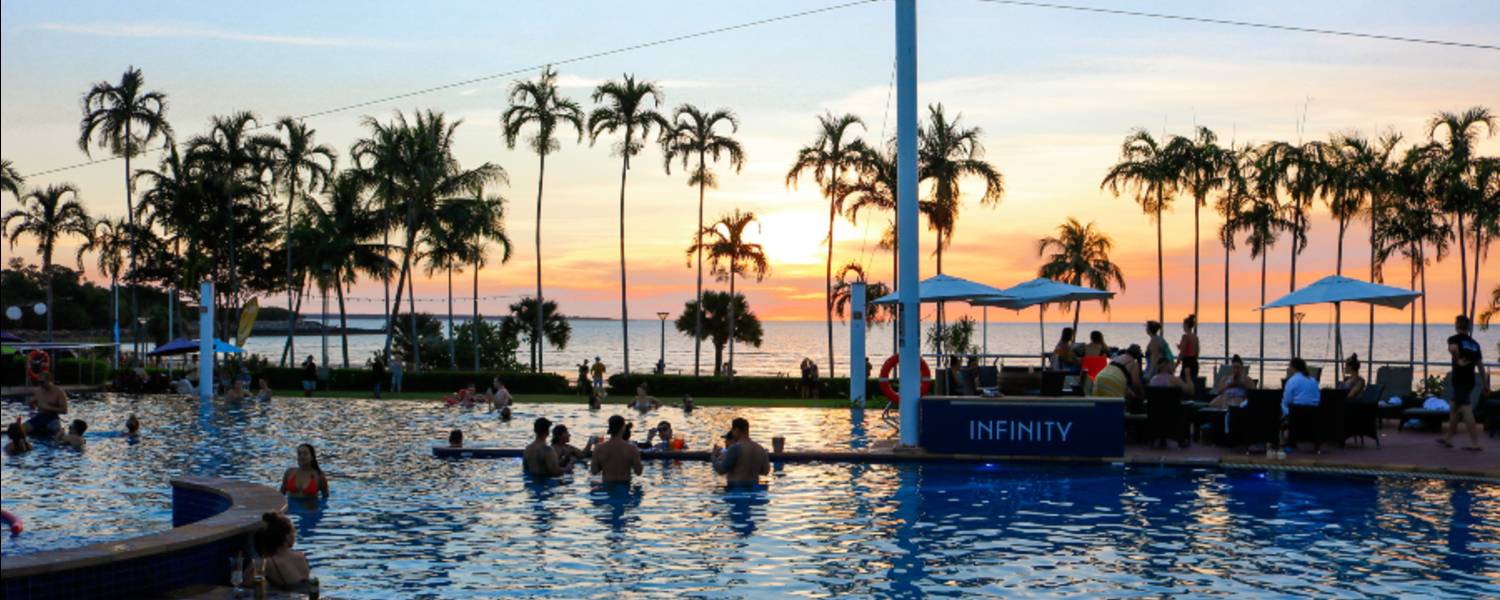 Mindil Beach Casino:
Spend the day blissfully lounging on a sunbed, swimming in the glistening pool and grazing on scrumptious beachy bites while taking in the best panoramic beach sunset in town!
Open: Friday – Sunday 12pm – 8pm
 INFINITY is an 18+ only area. No bookings taken.
Map of Darwin and suburbs :
Red bus route
Map of Darwin CBD:
All day Off- street parking:
Looking for somewhere to park all day in town? 🚗🚕🚙
This quick guide shows you all the off-street parking options in Darwin CBD
• from just $3.40 ALL-DAY!
Don't forget there are plenty of Zone C on-street parks as well
• from just $7.50 ALL-DAY!
Visit https://www.darwin.nt.gov.au/live/parking-roads/parking/parking-fees for a downloadable version of the guide
Free 2 hour parking: Darwin Waterfront Carpark and the Michell Centre in Mitchell Street.
$5 per day parking : Underneath the Exhibition Centre in the Waterfront area.
E- Scooters in Darwin:
Exciting news if your foot-falcons are feeling weary…
Neuron e-scooters can now go to Mindil & The Gardens!
E-scooters are a fun, convenient and affordable way to make short trips around Darwin… if you haven't had a crack yet, here is your excuse!
Download the app: https://www.rideneuron.com/
Go on… scoot! https://www.facebook.com/rideneuron/
E-SCOOTER company Neuron has launched a new safety feature that allows riders to share their trip in real time with friends or family, as the City of Darwin will tomorrow consider ­extending the trial.
E-bikes:
Exciting news, from today 150 brand new Neuron e-bikes are available to hire across Darwin! They will complement the city's popular e-scooter programme.
Our safety-first e-bikes will provide Territorians with another sustainable transport option, especially for longer journeys. Riders can travel on bike paths, footpaths, and low-speed roads across an initial 15 square kilometers riding area, which incorporates the CBD, The Gardens, Stuart Park, Parap, East Point and Fannie Bay. This excludes Daily Street to Bennett Street within the CBD as this has been designated a no-ride zone.
Darwin Weather radar:
Darwin Weather radar: http://www.bom.gov.au/products/IDR633.loop.shtml
Darwin Tides:
https://tides.willyweather.com.au/nt/darwin/darwin.html
Radio in Darwin:
Mix104.9 : Breakfast Show from 05h30 to 09h00, Katie Woolf from 09h00 to 12h00 every weekday, and news on the hour: https://www.mix1049.com.au/ (live streaming)
Hot100 : Breakfast Show from 06h00 to 09h00 and good music throughout the day: https://www.hot100fm.com.au/
Teritory FM 104.1 : Great breakfast show from 06h00 – 10h00 https://territoryfm.com/
Please email us with your events:
thisweekindarwin@gmail.com
Please LIKE us on Facebook:
https://www.facebook.com/thisweekindarwin/
UBER :
Transport is just a click away: uber.com
Gumball | Darwin Is A Swimming Sensation | The Club | Cartoon Network
► Click to watch Christmas videos here: https://www.youtube.com/playlist?list=PLkhjQtWfYUDyLdn6ovIEjG0pjD4rTgFkI
► Click to watch more of The Amazing World of Gumball https://www.youtube.com/playlist?list=PL77ED97B132C66551
Gumball, the amusing blue cat with a giant head and his best buddy Darwin, a pet goldfish who sprouted legs, step up the hilarity and hijinks in Cartoon Network's comedy series, The Amazing World of Gumball. The BAFTA awardwinning series tells the story of an extraordinary suburban family who just happen to live in an ordinary town. Along with Gumball and Darwin there's Dad, a 6'4\