Markets are an excellent way to get fresh, local foods like produce, homemade foods, crafts, and various trinkets. Hervey Bay is well-known for its local markets speckled throughout its various towns and villages.
Not only is this a great way to bond a community, but it also provides great experiences for visitors whether it's an Australian native or tourist.
Popular Hervey Bay Markets
But what are the different markets in the Hervey Bay area? Below are the various markets that Hervey Bay is most known for!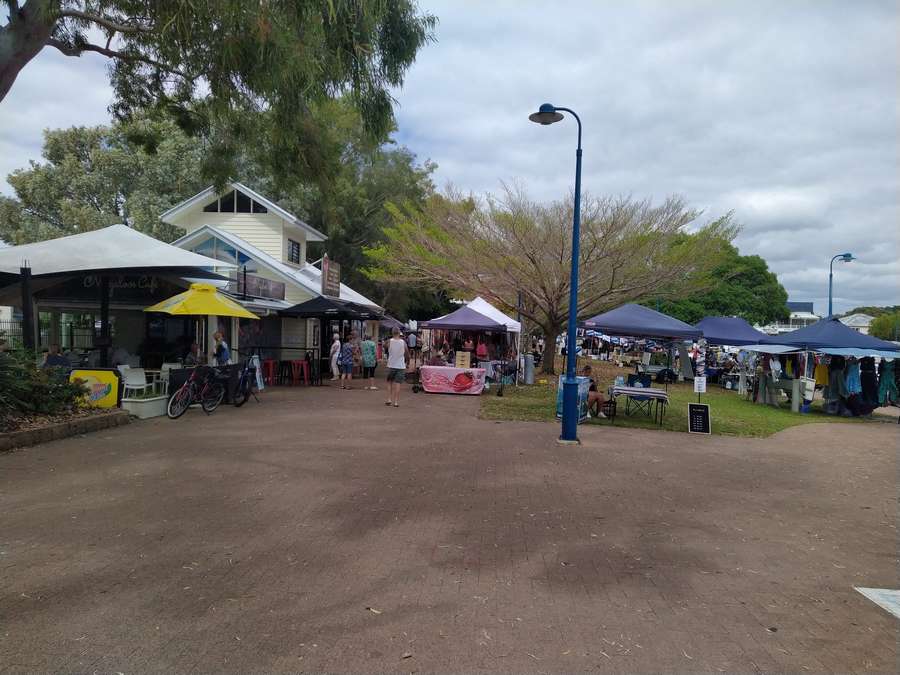 Hervey Bay MarketsMarket TimesNikenbah Markets1st and 3rd Sunday and starts around 8 am.Torquay Beachside MarketsEvery Saturday of the month, from 7 am to 1 pm.Urangan Pier Park Community MarketsEvery Saturday and Wednesday between 7 am and 1 pm.Koala Markets In UranganEvery 2nd and 4th Sundays of the month.Howard County Markets1st Saturday of the month (but not in January) from 7 am to 12 pm.Burrum Heads Markets2nd Saturday of the month, 7 am to 12 noonHervey Bay Market Times And Dates
Google Maps Of Hervey Bay Markets
Nikenbah Markets On Maryborough Rd
These markets are held to help raise money for animal refugees. Their cause is a great enough reason to visit them! Including all the traditional items of a market, guests can find produce, etc for purchase.
This market is held on the 1st and 3rd Sunday and starts around 8 am.
It is known to be located along Maryborough Rd or Nikenbah-Dundowran Rd. Phone 0400 734 699
Torquay Beachside Markets
The Torquay area is known for its beach, but its beachside markets right near the foreshore is another popular place to explore. It is most known for its arts and crafts as well as kids and baby items.
This market is great for supporting local people with handmade items. The market specifically sits across from the Torquay post office.
It is held on the 2nd, 4th and 5th Saturday of the month from 8 am to 1 pm.
Urangan Pier Park Community Markets
Located near the Urangan Pier, this community market is known for its plants, produce craft items and food.
Those looking to visit the historical pier for sightseeing or even fishing will find this market a treat to explore.
The market is open every Saturday and Wednesday between 7 am and 1 pm.
Koala Markets In Urangan
As another Urangan area market, this Hervey Bay market is perfect for those who love cakes and jams, trash and treasure (trinkets) and crafts. Operated by the Koala Social Club, this volunteer-based market is a proud part of the community!
It is located on Kruger Court and runs every 2nd and 4th Sundays of the month.
Howard County Markets 100 Stalls
This is one of the larger markets in the bay area and the Queensland area. With around 100 stalls, both indoor and outdoor, there's more than enough variety for guests.
From food to crafts and everything in between, there's something for everyone. It is known to be held on the 1st Saturday of the month (but not in January) from 7 am to 12 pm.
Burrum Heads Markets
This market is one of the most favoured by locals. With just over 30 stalls, there is plenty to explore. Specifically held at the Burrum Heads Community Hall.
With similar items as the other markets, such as crafts and homemade foods, it's a great experience overall.
This particular market runs on the 2nd Saturday of the month from 7 am to 12 noon, once again at the Community Hall on Main Rd and Howard St.
These markets are part of what makes Hervey Bay more than just its natural surroundings and various wildlife. They are an important part of being emerged into the local culture.
They provide a taste of local produce and tastes making for a fantastic adventure.
Adventuring in Hervey Bay doesn't have to be limited to boat tours, island tours, etc. In fact, it should include the RSL Club and local markets for the most meaningful and incredible experience of the bay area.
For more markets close by try the Maryborough Markets.
admin
The website is run by myself Daniel Clarke, I'm lucky enough to have been living in Hervey Bay, for 29 years so I'm classed as a local I have seen many changes over this time. I have been running websites since early 2000 and also have a tech business in Hervey Bay.
More Pages On Things To Do
【4K】Walk Around West End Market Brisbane Queensland Australia【VR】
One of Brisbane's famous weekend markets is this Davies Park Market at West End. Walking around beautiful park and forrest area to grab freshly baked pastries or even some multi cultural gourmet food.